Wedding Cakes Variety and Outstanding Flavors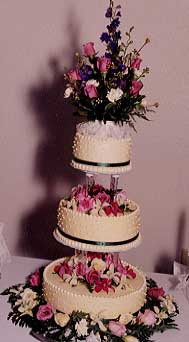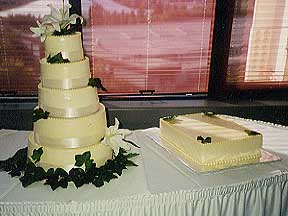 Wedding and other layer cakes
Generally, unless requested otherwise, we make cake layers of genoise, a French sponge cake, vanilla or chocolate, braced with a liquor flavored syrup and frosted (See below for a list). We also will make pound cakes of various flavors if you desire. All cakes can be made without any liquor upon request.
Our frostings use only butter as their shortening. We use no preservatives, chemicals, or hydrogenated fats. Some fillings use cream, egg, gelatin, etc. We will be happy to provide ingredient lists whenever necessary.
We also make cakes that have no buttercream or frosting what so ever. Generally, we use mousse fillings, sponge cake top and bottom, with a fruit juice and gelatin coating on the very top to seal in the moisture. We have made many fanciful tops on these types of cakes.
Another choice is that your cake be wrapped in chocolate instead of frosting. With a mousse filling of contrasting chocolate, it makes a spectacular cake.
Types or flavors of cake fillings to choose from can be divided into categories of fruit, nut, chocolate, coffee & spice, etc. But many of these categories can be combined, for example, we could make a milk chocolate filling, a milk chocolate and coffee with Kahlua filling, or a milk chocolate hazelnut praline filling with Frangelico. So the combinations are endless. Below we have suggested a list in categories and some of our favorite combinations, but feel free to suggest what sounds good to you.
Fruit: -Orange buttercream with or with out candied orange peel and orange liquor, plain orange or burnt orange flavor -Passionfruit buttercream with or with out rum, passionfruit mousse -Lemon buttercream, lemon curd, lemon mousse -Raspberry custard, buttercream, mousse, raspberry-strawberry combination -Strawberry buttercream, mousse, custard, strawberry-orange combination -Blueberry mousse with Creme de Cassis (a French blackberry liquor) -Cranberry mousse with Cranberria liquor or orange liquor -Pear mousse with Poire William liquor -Apple mousse with calvados liquor -Marion blackberry mousse with Creme de Cassis
Nut: -Toasted almond with Amaretto liquor or almond praline buttercream -Toasted hazelnut with Frangelico liquor or hazelnut praline -Toasted pecan or pecan praline -Toasted walnut or raw walnut -Pistachio with Pistachio liquor -Marzipan layer on inside of cake (I do not do outside covering with marzipan)
Chocolate: (all chocolate fillings will use Callebaut Belgian chocolate unless others requested) -Milk chocolate and cream -Milk chocolate buttercream -Milk chocolate-coffee -More milk chocolate varieties -White chocolate buttercream -White chocolate mousse with ginger -White chocolate mousse with orange or lemon -More white chocolate varieties -Semisweet chocolate buttercream -Semisweet chocolate mousse -Bittersweet chocolate mousse -Chocolate-orange -Chocolate-hazelnut -Milk chocolate and banana mousse with rum -Many More
Cheesecake: We can make cheesecakes of many types. Some usual ones include: -Vanilla cheese cake, custard type -vanilla cheesecake New York style (drier) -Passion fruit cheesecake -Rum raisin cheesecake -Chocolate cheesecake -Banana cheesecake -Ginger cheesecake with candied pineapple -Lemon cheesecake -Apple walnut cheesecake -Vanilla cheese cake with whole blackberries and Drambuie -Many more to choose from -Many cheesecake sauces including cranberry sauce, lemon sauce, raspberry sauce, strawberry sauce, blueberry sauce, caramel sauce, etc.