Desserts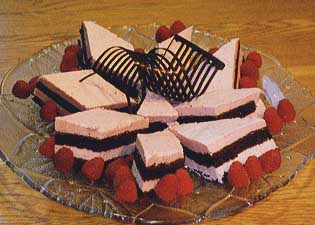 Flourless Chocolate Sponge Cake with raspberry mousse
Some individual dessert choices:
Petite tartlets filled with -lemon curd, -orange curd, -apricot curd, -raspberry curd, -blackberry curd, -cranberry curd, -lime curd, -filled with custard and topped with fresh fruit, -chocolate caramel filling, -chocolate espresso filling, -nut fillings, -chocolate cranberry tarts, -etc.
Cookie choices abound including: -3 ginger cookies, -Belgian triple chocolate brownies with walnuts, -pecan honey squares, -chocolate pecan, -mini sesame spice cookies, -Italian walnut raisin, -Swedish spice cookies with almonds, -extremely thin pecan and nutmeg cookies, -coconut sandies, -most favorite all butter shortbread, -chocolate hazelnut mounds, -layered cookies with jam, -linzer cookies, -almond honey cookies, -meringues- many flavors, -chocolate espresso shortbread, -rugelach, -mandelbrot, -many biscotti flavors, -schnecken, -pistachio friandes, -walnut coffee, -ossi dei morti (a crunchy Italian almond cookie), -cardamom cookies, -oatmeal raisin crisps, -stuffed raisin cookies, -French honey wafers, -hazelnut logs, -almond lace cookies, -Moravian spice cookies, -maple pecan wafers, -macaroons, -lemon wafers, -French crunchy almonds cookies with no fat, -crunchy thin English toffee, -homemade fig newtons, -Jewish hamantaschen, -Norwegian krumkake, -almond, coffee, -caramelized walnut squares, -etc.
Tarts with many fruit and nut fillings including -sweet potato, -apple, -apricot, -cranberry & orange, -peach, -nectarine, -plum, -mango, -persimmon, -carrot-hazelnut, -pear with or without nuts, -chocolate bourbon pecan, -walnut with kirsch, -walnut with coffee or orange, -four nut combination, -Italian custard with dried cherries soaked in rum, -almond & lemon, -French lemon tart, -fig tart, -etc.
See wedding cakes for cake selections, which can be made in many shapes and styles with or without frosting, in tiny squares or huge sheet cakes.
Pie selections abound, especially sour cherry, rhubarb, pear, just ask.
Pound cakes include -hazelnut poppy seed, -marble cake, -macadamia cake, -creamcheese walnut cake, -chocolate with dried fruit and nuts, -intense bittersweet chocolate, -lemon almond pound cake with a lemon syrup, -applesauce cake with nuts, -prune and Armangnac, -chestnut, -etc.
Roulades with different fillings including -bavarian cream, -Pear Bavarian cream with Poire William, -Apple mousse with Calvados, -the classic Buche de Noel, -French dacquoise (two hazelnut and almond crunchy layers sandwiched with whip cream and chocolate buttercream), -floating islands, -angelfood cakes of asst. flavors etc.
Fruitcakes come in all descriptions, -for example an American fruit cake with dried peaches, pears, apples, nectarines, apricots, dates, prunes, cranberries, walnuts, pecans, almonds, and cognac. -Italian fruitcakes called paneforte, tortone, and certosino. -Another fruitcake with fresh apples, pears, and cranberries. -German stollen with rum soaked raisins in white or whole wheat flour, French fruitcake with candied figs, etc.
Mousse of an assorted variety can be served in champagne glasses, cookie cups, hollowed out pumpkins, chocolate cups, hollowed oranges or lemons etc.
Creme brulee (of many flavors) can be served in the traditional low wide ramekin or in tiny sake cups or espresso cup etc.
Homemade ice cream and sorbet choices abound including ice cream bombs of assorted combination of flavors. The two most requested are ginger ice cream with or without chocolate sauce and passion fruit sorbet paired with coconut rum ice cream. Other possiblities include -cranberry cabernet sorbet, -cranberry ice cream, -grape ice cream, -coffee ice-cream with cognac and chocolate chips. A wonderful cake or baked Alaska can be made with homemade Tahitian bean French vanilla ice cream and bittersweet chocolate sorbet, sandwiched between genoise sponge cake. Also a nice patriotic combination is French vanilla ice cream (or lemon ice cream) paired with strawberry ice cream and blueberry ice cream with Creme de Cassis. This red, white, and blue combination looks stunning served in footed goblets.
Many more desserts are available, tell me your favorite flavors and I will elaborate
Click here to see more desserts